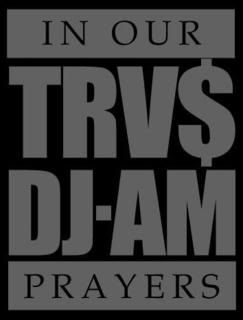 Former Blink-182 drummer Travis Barker and DJ AM were critically injured in a plane crash Friday night in Columbia, South Carolina. The plane's four other passengers were killed.
Lexington County Deputy Coroner Brian Setree confirmed for MTV News on Saturday morning (September 20) that three men and a woman died in the crash. The victims were: Barker's assistant, Chris "Little Chris" Baker, 29, of Studio City, California; Barker's security guard, Charles Still, 25, of Los Angeles; the plane's pilot, Sarah Lemmon, 31, of Anaheim, California; and her co-pilot, James Bland, 52, of Carlsbad, California. While TMZ originally reported that Baker, who appeared on MTV's reality show "Meet the Barkers," was newly married and that his wife recently gave birth, it reported late Saturday that she was about to give birth, and the fatal flight was booked was so Baker could be with her as soon as possible. TMZ reported that Baker's wife went into labor Saturday morning.
Are Prayers Go Out Travis and Adam...... and Our Condolences Go Out To Chris Baker and Charles Still Families.
R.I.P. CHRIS BAKER